Forgiveness and Luther's Ninety-five Theses
El perdón y las noventa y cinco tesis de Lutero
Palabras clave:
Iglesia Católica; indulgencia; Lutero; perdón; poder eclesiástic, Catholic Church; ecclesiastic power; forgiveness; indulgence; Luther
Resumen
Parte sustancial del conflicto que ocurre en la Reforma deriva del hecho de que la Iglesia Católica, habiendo pervertido la concepción de perdón anunciada en el Nuevo Testamento, substituya a Dios por funcionarios poderosos que intermediaban la relación entre los humanos y la divinidad.
En la primera parte de este ensayo, discutiremos la idea de perdón y de misericordia a partir del Nuevo Testamento y las consecuencias que derivan de las mismas. ¿De qué forma esta apertura a la posibilidad de remisión, actitud tan diferente a la de los Dioses Griegos y del Antiguo Testamento, llevó, paradójicamente, a la desaparición de Dios ya la institucionalización y jerarquización de la Iglesia Católica. La segunda parte se ocupará de las 95 tesis de Lutero, enfatizando su concepción de perdón y de gracia y la discusión de la relación entre las obras y la fe, en un contraste crítico con predicaciones y prácticas centradas en el castigo por los pecados.
Abstract: The replacement of God by "officers" with the task of mediating the relationship between human beings and the divinity perverted the notion of forgiveness of the New Testament. Part of the conflict that led to the Reformation resulted from this issue.
The first part of this paper will debate the notions of forgiveness and mercy in the New Testament. We will focus in the disappearance of God and on the institutionalisation and growth of the hierarchical power in the Church, which paradoxically results from the possibility of remission – a New Testament perspective different from the vision of the Greek Gods and from God of the Old Testament. The second part will deal with the Ninety-five theses of Luther, emphasising his vision of forgiveness and grace and the debate on the link between deeds and faith – a viewpoint that represented a critical contrast with the sermons and practices focused on the punishment for the sins.
Citas
Delumeau, Jean. 1983. Le péché et la peur. La culpabilisation en Occident XIIIe-XVIIIe siècles. Paris: Fayard.
Le Goff, Jacques. 1995. O Nascimento do Purgatório. Lisboa: Editorial Estampa.
Lutheran World Federation and The Catholic Church. 1999. Joint Declaration on the Doctrine of Justification. By the Lutheran World Federation and the Catholic Church. Wm.B. Eerdmans Publishing Co. Grand Rapids/Cambridge.
Lutheran-Roman Catholic Commission on Unity Common Statements. 2017. From Conflict to Communion. Lutheran-Catholic Common Commemoration of the Reformation in 2017». 2017. Leipzig: Evangelische Verlagsanstalt.
Mullet, Michael. 1985. A Contra-Reforma, Lisboa: Gradiva.
Neves, Carreira das. 21014. Lutero Palavra e Fé. Lisboa: Editorial Presença.
Nietzsche, Friedrich. 1997. O Anticristo. Ecce Homo. Nietzsche contra Wagner. Lisboa: Círculo de Leitores.
Pilosu, Mario. 1995. A mulher, a luxúria e a Igreja na Idade Média. Lisboa: Editorial Estampa.
Pope, Francis. 2013. Apostolic Exhortation Evangelii Gaudium. Vatican: Vatican Press.
Schama, Simon. 2014. A história dos Judeus. Encontrar as palavras 1000 a.c. – 1492 d.c.. Lisboa: Círculo de Leitores.
Second Vatican Council. 1964. Decree on Ecumenism. Unitatis Redintegratio. Vatican: Vatican Press.
Second Vatican Council. 1964. Dogmatic Constitution on The Church. Lumen Gentium. Vatican: Vatican Press.
Sophocles. 1914. Oedipus the King: The Harvard Classics, New York: P.F.
The 95 Theses. Stiftung Luthergedenkstätten in Sachsen-Anhalt. 2018. Accessed on 26th November. https://www.luther.de/en/95thesen.html
The Holy Bible: King James Version. New York: Ballantine Books. 1991
Waterworth, James, ed. 1848. The Council of Trent. The canons and decrees of the sacred and oecumenical Council of Trent. London: Dolman.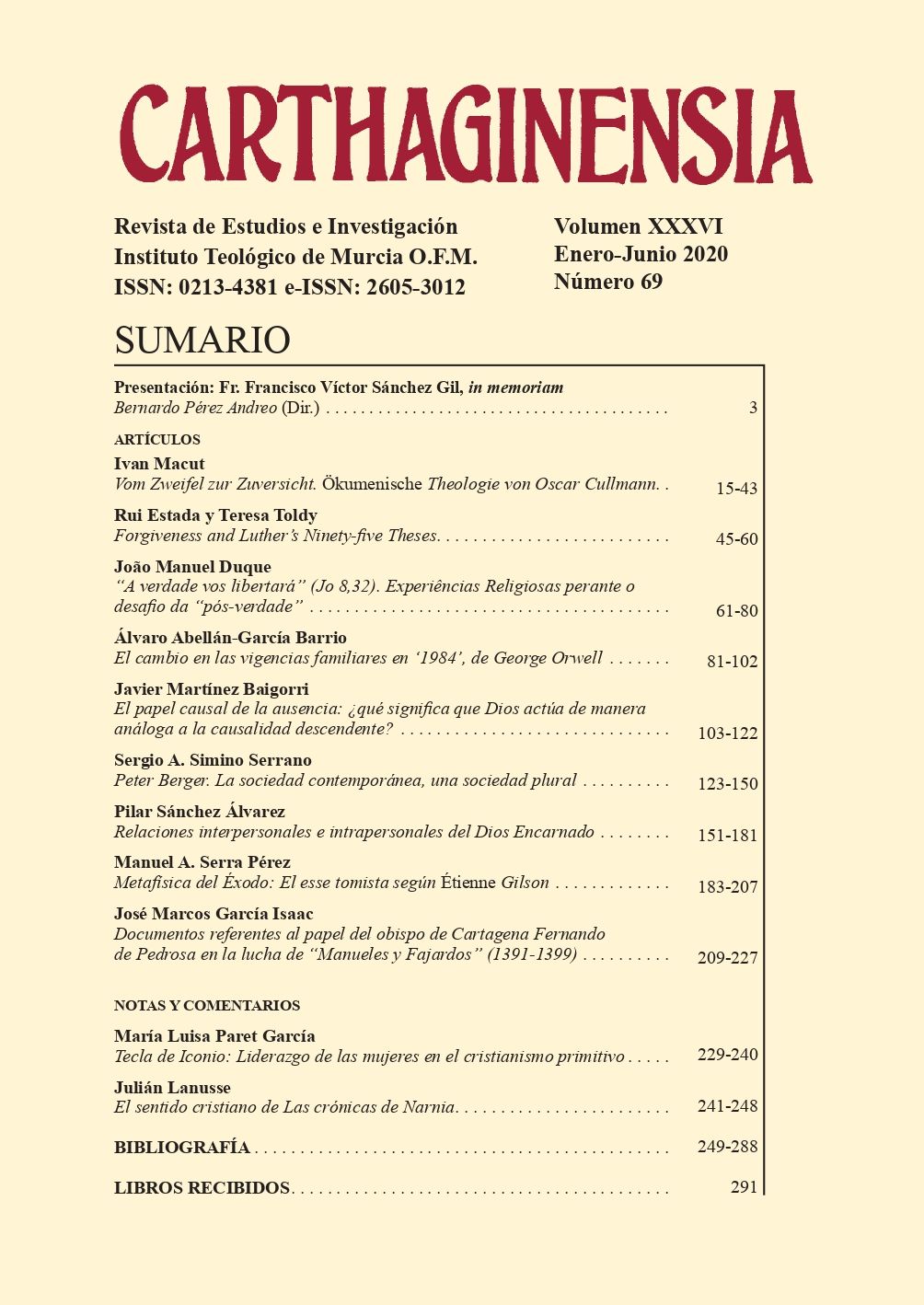 Cómo citar
Leal de Assunção Martinho Toldy, Teresa, y Rui Estrada. 2020. Forgiveness and Luther's Ninety-Five Theses. Carthaginensia 36 (69), 45-60. https://revistacarthaginensia.com/index.php/CARTHAGINENSIA/article/view/121.
Las obras que se publican en esta revista están sujetas a los siguientes términos:
1. Carthaginensia conserva los derechos patrimoniales (copyright) de las obras publicadas, y favorece y permite la reutilización de las mismas bajo la licencia de uso indicada en el punto siguiente.
2. Las obras se publican en la edición electrónica de la revista bajo una Licencia de uso Creative Commons By (CC By) https://creativecommons.org/licenses/by/3.0/es/. Se pueden copiar, usar, difundir, transmitir y exponer públicamente, siempre que: i) se cite la autoría y la fuente original de su publicación (revista, editorial y URL de la obra); ii) no se usen para fines comerciales; iii) se mencione la existencia y especificaciones de esta licencia de uso.