Vom Zweifel zur Zuversicht. Ökumenische Theologie von Oscar Cullmann
From doubt to confidence. Ecumenical Theology by Oscar Cullmann
Ivan Macut

Katholische Theologische Fakultät. Universität Split
Palabras clave:
Oscar Cullmann; Ökumenismus; Einheitsmodell; Zweites Vatikanische Konzil; Einheit durch Vielfalt, Oscar Cullmann; Ecumenism; Unit model; Second Vatican Council; Unity through diversity
Resumen
Zusammenfassung: Neben der Einleitung und der Schlussfolgerung gliedert sich die vorliegende Abhandlung in zwei Teile. In der Einleitung wird das Leben und das theologische Wirken von Oscar Cullmann kurz dargestellt. Der erste Teil des Beitrags ist dem frühen ökumenischen Gedanken Cullmanns gewidmet, der sich bis zum Zweiten Vatikanischen Konzil behauptet hat. Der Tenor dieser Phase war: die Einheit der Kirche ist nicht möglich, weil dadurch die Kirchen ihre eigene Identität aufgeben müssten, was kaum denkbar wäre. Die zweite, reife Phase von Cullmanns ökumenischem Denken deckt sich mit der Zeit des Zweiten Vatikanischen Konzils, die ihre volle Entfaltung erst nach dem Konzil erlebte. Im Mittelpunkt dieser Phase wird das ökumenische Einheitsmodell "Einheit durch Vielfalt" vorgeschlagen, das, laut Cullmann, als sofortige Einheitsform verwirklicht werden könnte. Zum Schluss wird der ökumenische Gedanke Cullmanns einer Auswertung unterzogen, die, trotz einiger Einschränkungen, positiv ausfällt.
Abstract: In addition to the introduction and the conclusion, the present article is divided into two parts. In the introduction, the life and theological work of Oscar Cullmann is briefly outlined. The first part of the article is dedicated to Cullmann's early ecumenical thought, which lasted until the Second Vatican Council. The tenor of this phase was that the unity of the church is not possible because it requires the churches to give up their own identity, which would be unthinkable. The second, mature phase of Cullmann's ecumenical thinking coincides with the time of the Second Vatican Council, which did not fully develop until after the Council. At the centre of this phase is proposed the ecumenical unity model "Unity Through Diversity", which, according to Cullmann, could be realized as an immediate unitary form. Finally, Cullmann's ecumenical thought is evaluated, which, despite some limitations, is positive.
Citas
BURIGANA, RICCARDO, La Bibbia nel Concilio. La redazione della costituzione "Dei verbum" del Vaticano II, Il Mulino, Bologna, 1998.
CULLMANN, OSCAR, La Bible au Concile, en Informations catholiques internatio-nales, 220 (1964) S. 18-29.
CULLMANN, OSCAR, La Tradition. Probleme exégétique, historique et théolo-gique, Delachaux & Niestlé, Paris 1953.
CULLMANN, OSCAR, Heil als Geschichte. Heilsgeschichtliche Existenz im Neuen Testament, J. C. B. Mohr (Paul Siebeck), Tübingen 1967.
CULLMANN, OSCAR, Petrus. Jünger-Apostel-Märtyrer. Das historische und das theologische Petrusproblem, Zwingli-Verlag, Zürich, 1952.
CULLMANN, OSCAR, Katholiken und Protestanten. Ein Vorschlag zur Verwirklichung christlicher Solidarität, Verlag Friedrich Reinhardt A.G., Basel, 1958.
CULLMANN, OSCAR, Vero e falso ecumenismo. L'ecumenismo dopo il Concilio, Morcelliana, Brescia, 1972.
CULLMANN, OSCAR, Die ökumenische Aufgabe heute im Lichte der Kirchengeschichte, Verlag & Lichtenhahn, Basel 1968.
CULLMANN, OSCAR, La notion biblique du charisme et l'œcuménisme, en Revue Thomiste, 71 (1971) 520-527.
CULLMANN, OSCAR, Einheit durch Vielfalt. Grundlegung und Beitrag zur Diskussion über die Möglichkeit ihrer Verwirklichung, Mohr Siebeck, Tübingen, 1986.
FERRARIO, FULVIO, La teologia del Novecento, Carocci Editore, Roma 2011.
KASPER, WALTER, Chiesa cattolica. Essenza – Realtà – Missione, Queriniana, Brescia, 2012.
LUBAC, DE HENRI, Carnets du Concile I, Les Éditions du Cerf, Paris, 2007.
LUBAC, DE HENRI, Carnets du Concile II, Les Éditions du Cerf, Paris, 2007.
MACUT, IVAN, Il pensiero ecumenico di Oscar Cullmann. Indagine sulle saua opera teologica, Roma, 2013.
MACUT, IVAN, Oscar Cullmann e il Concilio Vaticano II, en Protestantesimo, 67 (2012) 247-261.
MACUT, IVAN, Suvremeni ekumenski pokret – svjetske konferencije (1910-2013). Pokret za život i djelovanje. Pokret za vjeru i ustrojstvo Crkve. Ekumensko vijeće Crkava, Glas Koncila, Zagreb 2017.
MACUT, IVAN, Ograničenja i novosti II. vatikanskog sabora prema Oscaru Cullmannu, en Služba Božja, 51 (2011) 56-74.
MACUT, IVAN, Martin Luthers Rolle zu Beginn der Reformation: Einladung zum Nachdenken über die Vergangenheit. Gedenken an den Beginn der Reformation vor 500 Jahren und das Dokument "Vom Konflikt zur Gemeinschaft", en Carthaginensia, 34 (2018) Nr. 65, S. 1-14.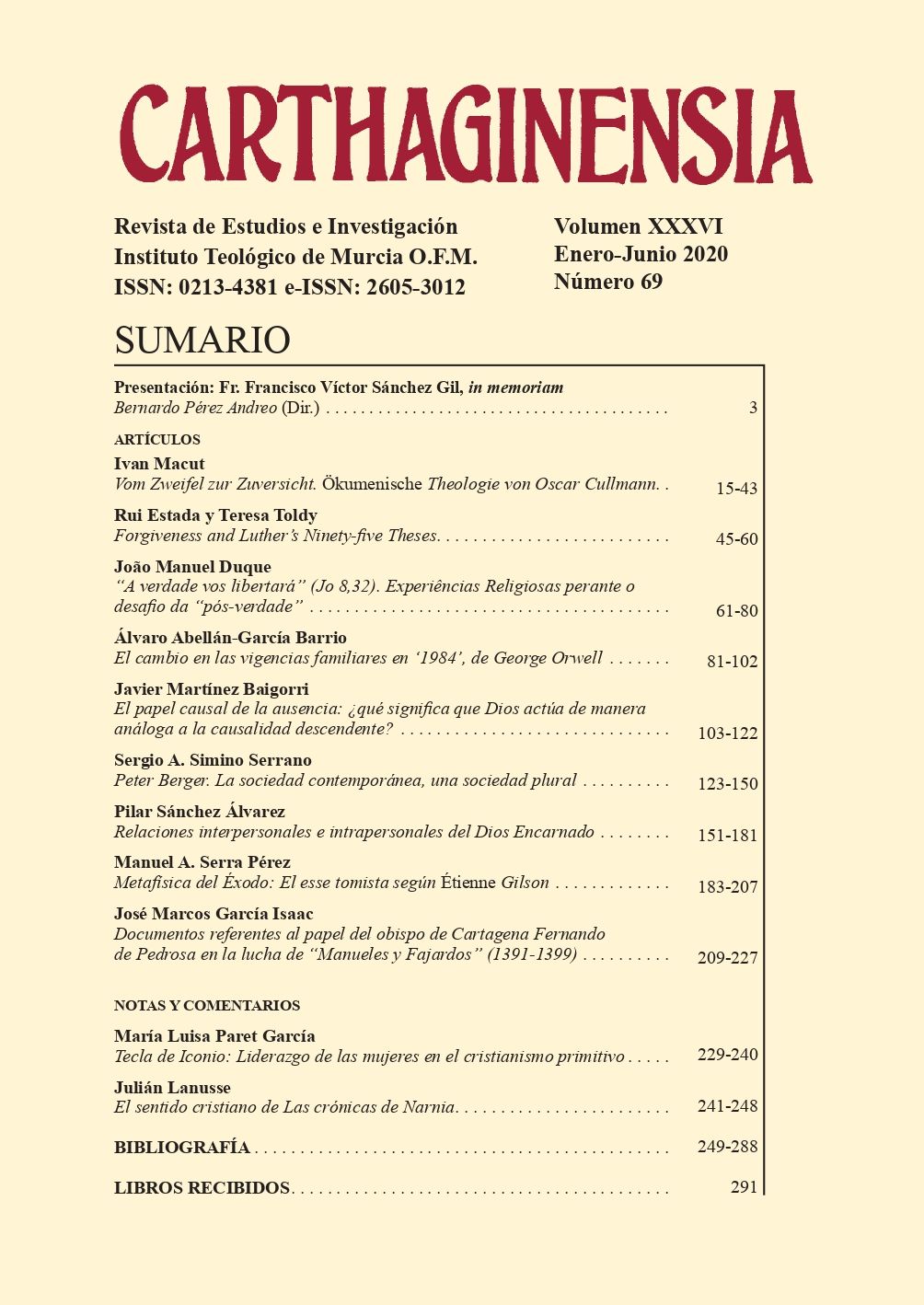 Cómo citar
Macut, Ivan. 2020. «Vom Zweifel Zur Zuversicht. Ökumenische Theologie Von Oscar Cullman»n. Carthaginensia 36 (69), 15-43. https://revistacarthaginensia.com/index.php/CARTHAGINENSIA/article/view/150.
Las obras que se publican en esta revista están sujetas a los siguientes términos:
1. Carthaginensia conserva los derechos patrimoniales (copyright) de las obras publicadas, y favorece y permite la reutilización de las mismas bajo la licencia de uso indicada en el punto siguiente.
2. Las obras se publican en la edición electrónica de la revista bajo una Licencia de uso Creative Commons By (CC By) https://creativecommons.org/licenses/by/3.0/es/. Se pueden copiar, usar, difundir, transmitir y exponer públicamente, siempre que: i) se cite la autoría y la fuente original de su publicación (revista, editorial y URL de la obra); ii) no se usen para fines comerciales; iii) se mencione la existencia y especificaciones de esta licencia de uso.