Filosofia e teologia in Duns Scoto
Philosophy and theology in Duns Scotus
Francesco Fiorentino

Università degli Studi di Bari Aldo Moro
Palabras clave:
Contingencia, libertad, Método, Necesidad, Verdad., Contingency, Freedom, Method, Necessity, Truth
Resumen
Esta contribución reconstruye, de acuerdo con el método histórico-filosófico y a la luz de los estudios más significativos, el escenario intelectual de finales del siglo XIII que precede inmediatamente a la consideración escotiana de la relación entre filosofía y teología, con referencia particular a Bonaventura, Tomás de Aquino y Enrique de Gante. Esta reconstrucción sirve para resaltar las tres figuras que pueden explicar la evolución de esta relación antes de Escoto y, por lo tanto, para percibir la novedad del pensamiento de Escoto que se analiza principalmente sobre la base de los comentarios de las sentiancias. Esta novedad consiste principalmente en la conceptualización de la contingencia sincrónica que sigue a la valoración de la libertad y la omnipotencia de Dios como un resultado importante de las condenas eclesiásticas anteriores. Esta conceptualización invierte el orden gnoseológico que los filósofos y teólogos inductivistas usan para conocer a Dios con el intelecto natural del hombre, y restaura el orden ontológico que procede de Dios al hombre. No es el hombre quien conoce a Dios, sino Dios quien se deja conocer libremente por el hombre. Así, Escoto elabora dos conceptos, el del ente unívoco y el de la esencia divina, para garantizar la libertad de Dios y el conocimiento del hombre al mismo tiempo.
Abstract: This contribution reconstructs, according to the historical-philosophical method and in the light of the most meaningful studies, the intellectual scenery of the last period of the thirteenth century, that immediately precedes Duns Scotus' consideration of the relationship between the philosophy and the theology, with particular reference to Bonaventure, Thomas of Aquin and Henry of Ghent. This reconstruction serves to underline three figures able to explain the evolution of this relationship before Scotus and therefore to notice the novelty of Scotus' though that  is mainly analyzed from the comments to the Sentences. This novelty mainly consists in the formulation of the synchronic contingency that derives from the freedom and the omnipotence of God as important result of the preceding ecclesiastical sentences. This concept upsets the cognitive order that the philosophers and the inductive theologians use for knowing God with the natural intellect of the man, and it restores the ontological order that proceeds from God to the man. It is not the man to know God, but it is God to leave to freely be known by the man. This way Scotus elaborates two concepts, that of the univocal being and that of the divine essence, to assure at once the freedom of God and the knowledge of the man.
Citas
GUIDO ALLINEY, Giovanni Duns Scoto. Introduzione al pensiero filosofico. Edizioni di Pagina. Bari 2012.
LUCA BIANCHI, Pour une histoire de la 'double vérité'. Vrin. Paris 2008.
BOETIUS DACUS, Modi significandi sive quaestiones super Priscianum maiorem , ed. JOANNES PINBORG, HENRICUS ROOS, Gad, - Hauniae 1969.
BOETIUS DACUS, Quaestiones de generatione et corruptione, ed. GEZA SAJO, Gad, . - Hauniae 1972.
BOETIUS DACUS, Quaestiones super libros physicorum, ed. GEZA SAJO, Gad, Hauniae 1974.
BOETIUS DACUS, Quaestiones super librum topicorum, ed. NICOLAUS GEORGIUS GREEN-PEDERSEN, JOANNES PINBORG, GAD, Hauniae 1976.
BOETIUS DACUS, Tractatus de aeternitate mundi, ed. GÉZA SAJO', De Gruyter, Berlin 1964.
BONAVENTURA DE BALNEOREGIO, Collationes in Hexaemeron, in Opera omnia, ed. Patres Collegii S. Bonaventurae, Editiones Collegi S. Bonaventurae, Quaracchi 1991.
OLIVIER BOULNOIS, «Chapitre XIV. La pluralité des sciences et l'épistémologie des philosophesRaoul, Boèce, Siger et les autres», IN OLIVIER BOULNOIS (ed.), Philosophie et théologie au Moyen Age : anthologie, Les Editions du CERF, Paris 2009, 255-276.
OLIVIER BOULNOIS, «Chapitre XV. La crise intellectuelle des ans 1270. Bonaventure et Thomas d'Aquin», IN OLIVIER BOULNOIS (ed.), Philosophie et théologie au Moyen Age : anthologie. Les Editions du CERF, Paris 2009, 277-293.
OLIVIER BOULNOIS, «Le chiasme: la philosophie selon les théologiens et la théologie selon les artiens, de 1267 à 1300», in JAN A. AERTSEN, ANDREAS SPEER (eds.), Was ist Philosophie im Mittelalter? = Qu'est ce que la philosophie au Moyen Age? = What is philosophy in the Middle Ages? : Akten des X. Internationalen Kongresses für mittelalterliche Philosophie der Société Internationale pour l'Étude de la Philosophie Médiévale, Erfurt 25-30 August 1997. de Gruyter, Berlin 1998, 595-607.
JEAN-BAPTISTE BRENET, «CHAPITRE XIII. L'IDEAL PHILOSOPHIQUE», IN OLIVIER BOULNOIS (ed.), Philosophie et théologie au Moyen Age : anthologie. Les Editions du CERF, Paris 2009, 239-254.
FRANCESCO FIORENTINO, Conoscenza scientifica e teologia fra i secoli XIII e XIV. Edizioni di Pagina. Bari 2014.
FRANCESCO FIORENTINO, «Francesco Petrarca e la cultura universitaria», in via di pubblicazione.
FRANCESCO FIORENTINO, «Introduzione. Conoscenza e attività in Giovanni Duns Scoto», in IOANNES DUNS SCOTUS, Il Prologo dell'Ordinatio, ed. Francesco FIORENTINO. Città Nuova, Roma 2016, 1-153.
FRANCESCO FIORENTINO, «Joseph Ratzinger a confronto con Bonaventura, Tommaso d'Aquino e Duns Scoto su fede e ragione», in MAURO MURSI, IVAN POZZONI (eds.), Fede e ragione. Limina Mentis, Villa Santa (MB) 2016, 13-58.
FRANCESCO FIORENTINO, «La critica lulliana alla teoria averroista della felicità speculativa», in JOSÉ HIGUERA RUBIO (ed.), Knowledge, Contemplation and Lullism. Contributions to the Lullian Session at the SIEPM Congress Freissing August 20-25 2012. Brepols, Turnhout 2015, 89-108.
FRANCESCO FIORENTINO, «La teoria della superadditio passionis. Un'influenza albertino-egidiana in Giovanni da Reading?», in Freiburger Zeitschriften fur philosophie und theologie 56 (2009) 106-137.
GONSALVUS HISPANUS, Quaestiones Avenionenses, ed. L. AMÒROS, Editiones Collegii S. Bonaventurae, Quarracchi 1935.
GUILLELMUS VARRO, Scriptum in Sententias Petri Lombardi, ms. Città del Vaticano, Biblioteca Apostolica Vaticana, Vat. Lat. 1115.
HENRICUS DE GANDAVO, Summa quaestionum Ordinariarum, ed. BADIUS ASCENSIUS, Paris 1520.
IOANNES DUNS SCOTUS, Opera omnia, ed. CARLO BALÌC ET ALII, Typis Poliglottis Vaticanis, Roma 1950-2010.
IOANNES DUNS SCOTUS, Quaestiones super libros metaphysicorum Aristotelis, ed. ROBERT ANDREWS, Franciscan Institute St Bonaventure University, St. Bonaventure, N.Y. 1997.
IOANNES DUNS SCOTUS, Reportatio Parisiensis I-A, ed. ALLAN B. WOLTER, OLEG V. BYCHKOVFranciscan Institute of St. Bonaventure University, St. Bonaventure N.Y. 2004-2008.
ADRIANO OLIVA, Les débuts de l'enseignement de Thomas d'Aquin et sa conception de la Sacra doctrina avec l'édition du prologue de son Commentaire des Sentences. Vrin. Paris 2006.
PASQUALE PORRO, Tommaso d'Aquino. Un profilo storico-filosofico. Carocci. Roma 2012.
LEONARDO SILEO, «Il concetto di sapientia e la Filosofia prima. Le ragioni del dibattito e l'opzione di Bonaventura», in Quaestio 5 (2005) 429-476.
ROGERIUS BACO, Communia naturalia ed. ROBERT STEELE, Clarendon Press, Oxford 1911.
ROGERIUS BACO, Opus maius, ed. JOHN HENRY BRIDGES, Minerva, Frankfurt 1964.
ROGERIUS DE MARSTON, Quaestiones disputatae de anima, ed. PATRES COLLEGIIS. BONAVENTURAE, Editiones Collegii S. Bonaventurae, Quaracchi 1932.
SIGERUS DE BRABANTIA, Quaestiones in Metaphysicam, ed. CORNELIO ANDREA GRAIFF, Institut Supérieur de Philosophie, Louvain 1948.
SIGERUS DE BRABANTIA, Tractatus de anima intellectiva, ed BERNARDO BAZAN, Publications universitaires-Nauwelaerts, Louvain — Paris 1972.
THOMAS DE AQUINO, Opera omnia, ed. Leonina, TYPOGRAPHIA POLYGLOTTA S.C. DE PROPAGANDA FIDE, ROMA 1888-1972.
THOMAS DE AQUINO, Scriptum super tertium librum Sententiarum, ed. LORENZO PEROTTO, Edizioni Studio Domenicano, Bologna 2000.
Thomas de Aquino, sermones et opuscula concionatoria : parochis universis et sacris praedicatoribus, ed. Jean-Baptiste Raulx, Bloud et Barral, Paris 1881.
Thomas de Aquino, Super Boetium De Trinitate, tr. Pasquale Porro, Bompiani, Milano 2007.
Forest, Aimé - Van Steenberghen, Trois commentaires anonymes sur le "Traite de l'ante" d'Aristote. Publications universitaires-Nauwelaerts. Louvain-Paris 1971.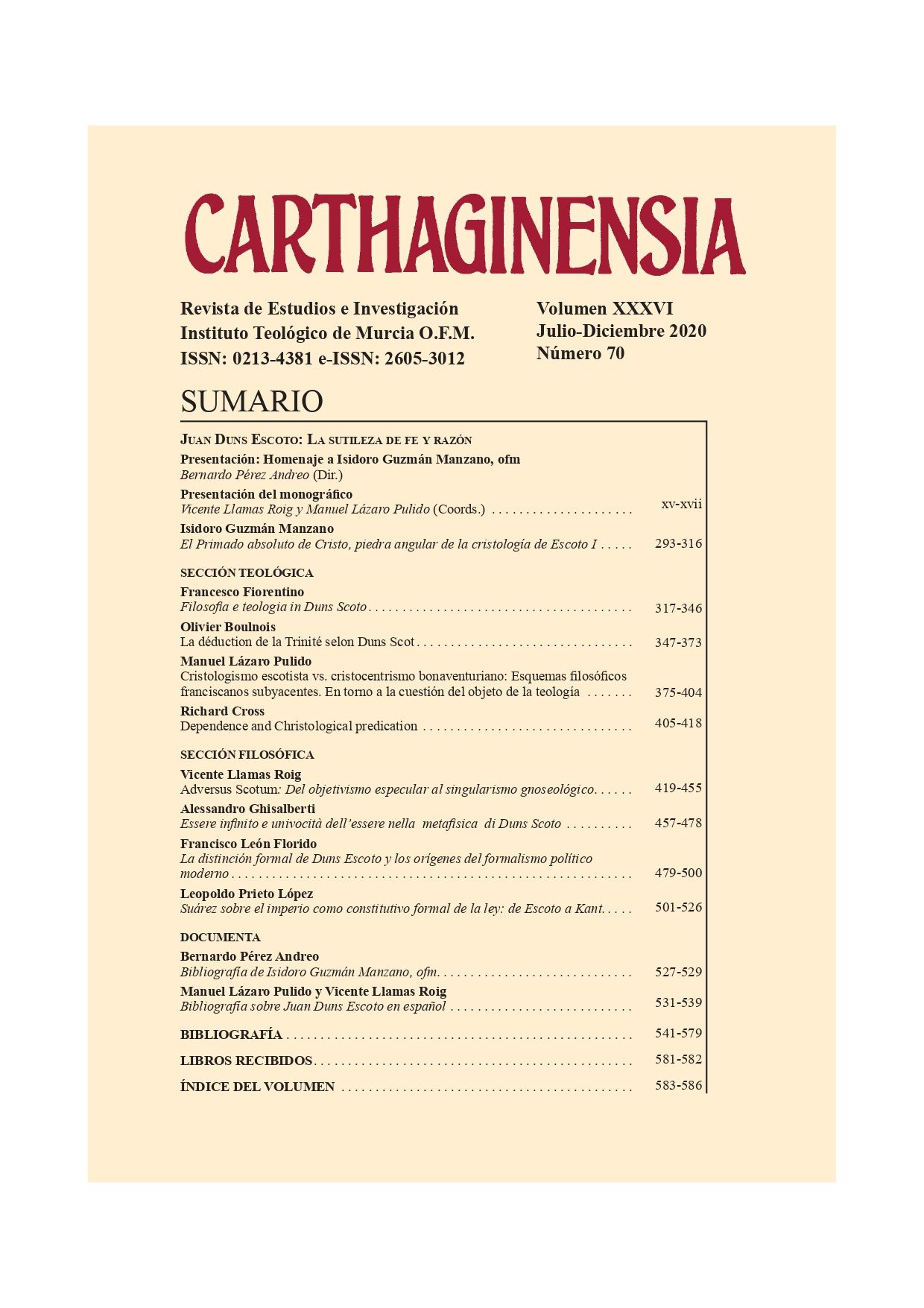 Cómo citar
Fiorentino, Francesco. 2020. Filosofia E Teologia in Duns Scoto. Carthaginensia 36 (70), 317-46. https://revistacarthaginensia.com/index.php/CARTHAGINENSIA/article/view/242.
Sección
SECCIÓN MONOGRÁFICA
Las obras que se publican en esta revista están sujetas a los siguientes términos:
1. Carthaginensia conserva los derechos patrimoniales (copyright) de las obras publicadas, y favorece y permite la reutilización de las mismas bajo la licencia de uso indicada en el punto siguiente.
2. Las obras se publican en la edición electrónica de la revista bajo una Licencia de uso Creative Commons By (CC By) https://creativecommons.org/licenses/by/3.0/es/. Se pueden copiar, usar, difundir, transmitir y exponer públicamente, siempre que: i) se cite la autoría y la fuente original de su publicación (revista, editorial y URL de la obra); ii) no se usen para fines comerciales; iii) se mencione la existencia y especificaciones de esta licencia de uso.